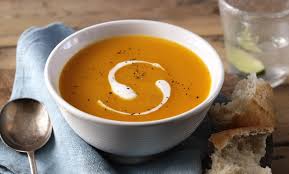 Thick creamy and spicy—this soup uses the bounty of fall.
2 lbs. pie pumpkin
2 qts. vegetable broth
2 leeks, cut in half lengthwise, cleaned well and chopped
2 chilies (mild or hot), diced
2 Tablespoons grated fresh ginger
1 teaspoon sea salt
1 bunch (4 to 6 leaves) collard greens, cut into thin strips
1 can (14 oz.) coconut milk
Juice of 1 lime
1 teaspoon fresh thyme
½ teaspoon ground allspice
Cut pumpkin in half top to bottom and remove seeds. Cut the halves into chunks that will fit in your veggie steamer and steam them for 20 to 30 minutes or until they are very soft. (You may also steam, covered, in the microwave.)
Bring the broth to a boil in a medium soup pot. Add the leeks, chilies, ginger, garlic and salt. Cook on medium low heat for about 30 minutes. Add the collard greens and cook for 15 to 20 minutes, stirring occasionally.
Scoop out the pumpkin pulp, place in a blender or food processor, and process until smooth. Add a small amount of the broth as needed to facilitate processing. Combine the blended pumpkin with the rest of the soup. Stir in the coconut milk, lime juice, thyme and allspice. Taste and add additional salt if needed.
Cook for about 5 additional minutes, until heated through and serve. Yields 6 servings.
Recipe courtesy of Bev Shaffer
Chef's Notes: Allspice is a cured, unripe berry from a tropical evergreen tree; when ground, it releases aromatic notes reminiscent of cloves, cinnamon and nutmeg.